Create a Fur Action Text Effect
Learn how to use Adobe Photoshop to create a fur action using a pattern, a brush, a layer style, and a gradient map. At the end of the lesson you can perform almost the entire process with a just single mouse click.
This complete action has more features also and it works with 72 dpi and 300 dpi resolution. It can also work with shapes as well, and it allows you to choose different colors and sizes for the fur.
Check out the simple tutorial.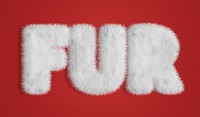 ---