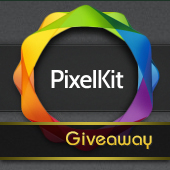 We are excited to announce an awesome "3 Annual PixelKit Membership Accounts" giveaway in collaboration with PixelKit.
All the waiting has finally ended – web designers now have a great solution for where to find their UI Kits. The site, PixelKit, is essentially a complete library full of well-designed UI kits, along with a huge range of tools that a web designer can easily use.
About PixelKit
PixelKit is a great solution for web designers everywhere, helping them to finish their projects more quickly and efficiently. There is no other place on the Internet where you can get so many scalable, vectorized graphics all in a slick and easy to use interface. The designs come in many different styles allowing you to customize your site as you see fit.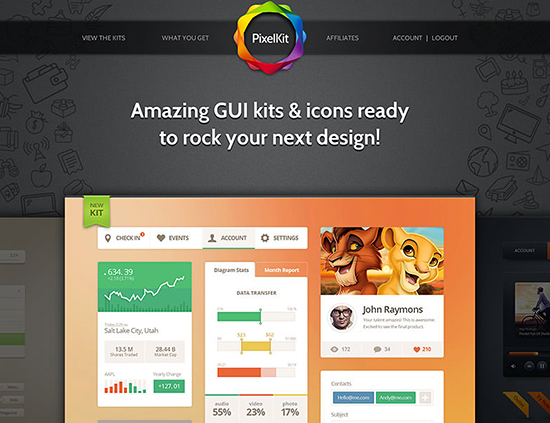 What Can You Get?
If you win, you're up for a one-year membership from PixelKit. You may now be wondering what the benefits are and what exactly you get from this, so briefly:
On a monthly basis, hundreds of graphics are uploaded, ready for you to use.
There are literally thousands of choices and the number is fast-increasing. Highly detailed and well-designed UI Kits that come with a vast selection of icons, buttons and sliders are the norm. Other sites rarely have this much selection and individual packages are often lacking in as much quantity as you can find at PixelKit.
With fully scalable vectorized graphics, you will be able to use them at the resolution that you want.
PixelKit is one of the only sites with fully mobile compatible graphics.
The UI elements that you can download are now available in HTML version, built Bootstrap system.
UI Kits and Icon Sets Available
Modern Touch – Flat UI Kit
Not only it's eye candy but using this flat UI kit will guarantee your website to be functional as well. The right typography balance of weight and positioning as well as the paddings, margins and colors will bring an exquisite feel to your website with a distinctive focus on content.
Tasty Bites – Food Icon Set
This UI Kit and icon set is great for any website that has to do with food. Cafes, restaurants, bars and many more will love the look they can get.
Vintage iOS – UI Kit
An iPhone UI kit ready to help you create the next big thing when it comes to mobile applications. It has all the elements you will ever need in order to create any page for your first million dollar iOS application.
Dark Velvet – UI Kit
With a crisp look this dark UI kit is bound to bring your website an elegant, corporate feel. A great choice for every designer or developer that wants to give a company's web presence a sharp and professional look.
Gentle Edges – Minimalist Icon Set
This is a pinata of icon-sets! With over 1000 vectorized icons in 46 categories, your appetite will be whetted for weeks or months to come. Can pretty much use this as your bread and butter.
Vanilla Cream – UI Kit
An easy on the eyes UI kit best used for a coffee shop, bistro or pastry website. An easy pick if you want your website to make an amazing impression. It comes with 100+ elements in 6 different categories that will help you knock your website out of the park.
Giveaway Details
- The giveaway ends on Saturday, November 16th 2013.
- The 3 winners will be selected randomly and will be informed directly after the competition ends via Email. (Please make sure to use a valid email address when writing your comment below).
Do the Following to Win:
First, write us a comment explaining where you would use PixelKit premium graphics if you win.
Second, follow us on Twitter @PixelKitCom and @textuts.
Last, make sure you are logged into Facebook and click the "Like" button on the PixelKit Facebook page.
Check out this special treat– the Free PixelKit Bootstrap UI Kits. You can download these modern HTML templates and use it to make your design even more functional and cool looking.
Good Luck!